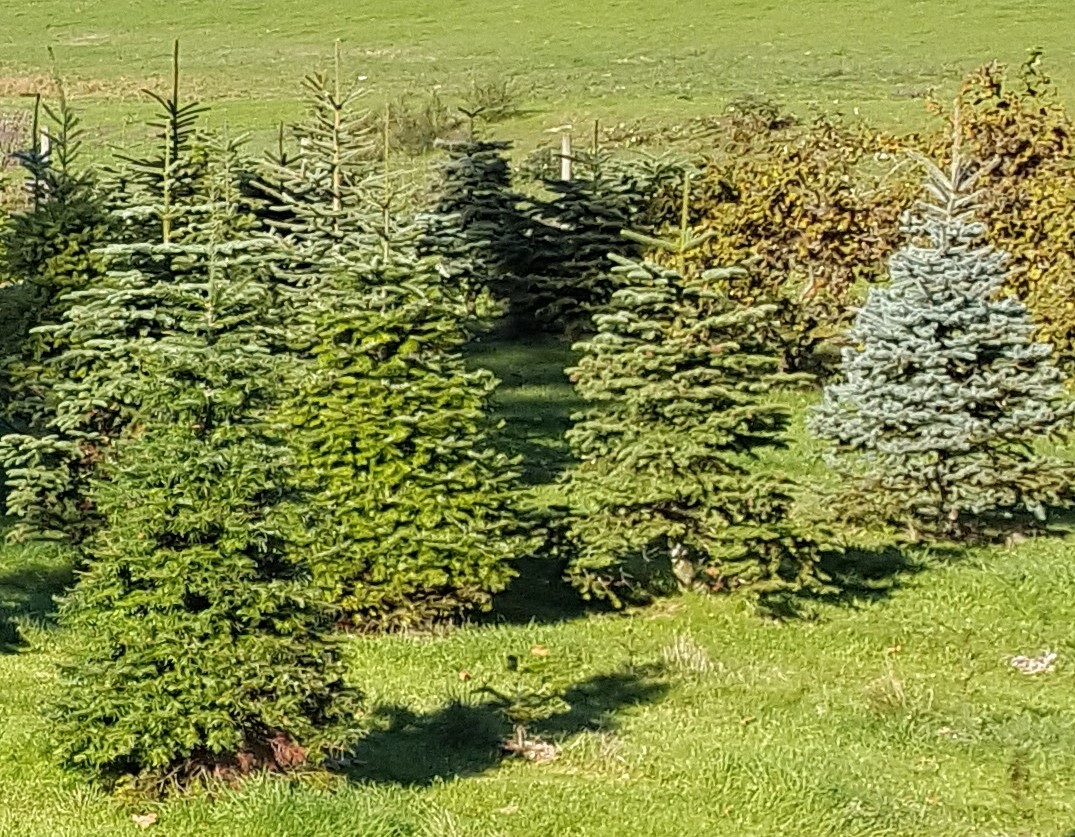 We're now closed for the 2021 season!
Wishing you all a very Merry Christmas and a Happy and Healthy New Year!
We had high sales in the 8 days we were open, so were too short of good trees to stay open any longer. Our apologies to any regular customers who didn't get their tree yet.
Other locations where you might find a suitable Christmas tree:
Friesen Rentals 1694 Cedar Road - proceeds to the Christmas Cheer Fund supporting families in need in Cedar area.
Yellow Point Propagation - CLOSED FOR SEASON - last day was Sunday December 5th.
Haley Agro-Forestry, 2510 Yellow Point Road, Ladysmith, open Fri-Sun Noon to 4 pm, December 12th will be the last day open. David Haley 250-246-8787.
Gogo's Christmas Tree Farm 2625 S Forks Rd, Nanaimo.
Whiskey Creek Christmas Tree Farm Melrose Road, Qualicum Beach. U-Cut. Hours & location on their website.
Cowichan Valley Christmas Trees 4411 Webdon Road, Duncan. U-Cut or they will cut. Hours, tree types & prices on their website.
Sahtlam Tree Farm, 4901 Conifer Way, Duncan, BC. (250) 748-6326 - best to call to find out hours and prices.
Southwest BC Christmas Tree Association Buy and Sell Directory - lists BC farms and whether they sell Retail.
You can probably find more, by doing a Google search.
Christmas Trees
Boat Harbour Farm is a 5 acre farm located in Cedar, BC, just south of Nanaimo. It's a short drive from Nanaimo, Ladysmith or Lantzville.
Pick your tree while it's still standing in the field! Our Christmas tree farm is a "you pick, we cut, we shake, you load" Christmas tree farm. The advantage of the tree not being cut until you choose it, is that it then gets into water within a few hours, which makes a big difference in how long it lasts.
We don't have enough trees to sell wholesale - if you're looking for wholesale trees, please see the Southwest BC Christmas Tree Association Buy and Sell Directory. We are only a retail seller of trees.
2021 Christmas Tree Varieties Available - $40 per tree
We had several varieties of beautiful Christmas trees, some up to 12' tall:
Douglas fir
Grand fir
Noble fir
Nordmann fir
Concolor fir
Colorado spruce - blue or green
Canaan fir
See our Facebook page for more photos of our trees.
During the Christmas season when you arrive to pick out a tree:
If we're not outside when you get here, ring our doorbell so we can give you a "BC tree tag" to mark the tree you want. There are 2 fields of trees to choose from, so it may take you a while to choose! If it has been raining the fields may be a bit soggy, so best to wear waterproof shoes.
After you choose your tree and we cut it, we'll shake it in our Christmas tree shaker to eliminate loose needles, bird nests and anything else that might be hiding in it. Don't worry - any birds have abandoned their nests long before December!
Dogs are welcome, but please keep them on a leash.
Please be prepared to load and secure your tree in or on your vehicle.
Payments
Our Square reader can accept credit and debit cards - including chip and PIN cards, tap-and-go cards. Cash works, but we prefer credit or debit.
The photo below is part of our top field, taken from Pace Road on Oct 31, 2021. Our driveway is to the left of this field. See our Facebook page (link below) for more photos of our trees.